It feels like just yesterday that Frank and I were sitting at a bar in Redmond enjoying a nice craft cocktail and talking about the best way to store settings in shared preferences. After chatting with someone for 2 hours about isolated storage how could you not become best friends and start a podcast, record 266 episodes, and have such amazing listeners that they have downloaded our podcasts over 1.7 million times! It has been a wild ride and just this week we officially celebrated 5 years of the podcast, or "his longest running job" as Frank calls it.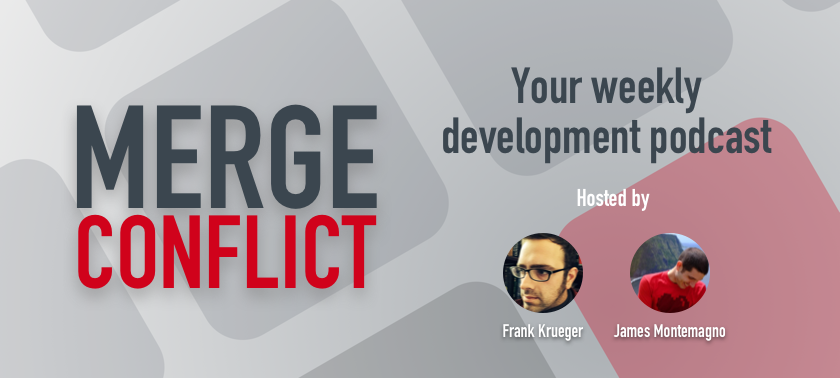 When we started the podcast, we had an idea of what we were doing, but I don't think either of us thought it would go this far. We have interviewed some amazing guests, covered about every topic we could think of including how we make our podcast, and yet somehow every week we get on Zencastr and talk for hours. That is my favorite part of podcasting with Frank, I get a dedicated time that I get to chat with one of my best friends on stuff we both super love. It is the reason I started podcasting years ago, why I started so many podcasts over the years, and why I try my hardest to keep them going.
Looking back over the years I have so many favorite episodes that we recorded, however there are two that stick out in my mind as my absolute favorite.
In this very special Merge Conflict, I got to interview Frank Krueger about his childhood, life, career, move to independent developer, and future plans. Every second was absolutely amazing.
We talk about GUIDs for 45 minutes, what more do I need to say.
I want thank Frank for sticking by my side all these years and to all of our amazing listeners that have supported us over the years through our Patreon, Discord, or just reaching out on Twitter. We love you, thank you, and can't wait for the next 5 years of Merge Conflict.