Last year I ventured into building my own workout area at the house, and it all started with a $400 investment to put together a DIY spin bike. It has been 9 months and over 150 rides of my Sunny SF-B1002 Bike and moofit cadence sensor. They continue to go strong and I love them. Looking back, I did a lot of research up front about what bike to get, how heavy the fly wheel should be, and what type of resistance. The Sunny bike seemed like a great fit as it has leather resistance, a 49 lbs. fly wheel, and super sturdy.
Since then, the Yosuda bikes have continued to rise to the top of the charts with a felt pad and 35 lbs. flywheel coming in at just $230! So, I thought to myself how does this bike stack up and could I have saved an additional $100? Well, the good folks over at Yosuda sent me a bike! The YBOO1 that offers these features and has a 270 LBS capacity. Best of all they are giving everyone free shipping and an extra 5% off with coupon code MOTZ at yosudabikes.com. The bike arrived this week, and I gave it a full breakdown. Here we go!
Construction & Build
This bike comes with everything you need to assemble it. I have built a bike before, but I am still impressed that it took me only 20 minutes to put together.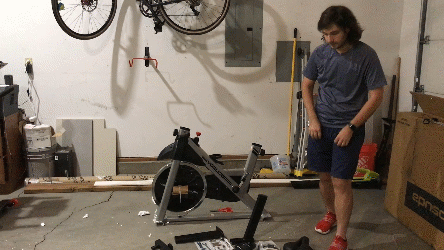 The bike and the 35lbs fly wheel doesn't feel that heavy picking it up and wheeling it around. The bike overall is a good build, which is impressive. I am 5 foot 9 inches and 165 lbs., and I felt simply fine standing on it riding. More on my thoughts later, but let's get to the features.
Features
Let's talk features of this bike! Just like my Sunny bike it has the essentials and not necessarily more.
Adjustability of the seats and handlebars is notch based, which means that it isn't fine grain control over, but I did fine the height simply fine for me.
The cage pedals are just that, nothing fancy, but work and can always be upgraded to an SPD if you wanted to. The bottle holder has an interesting placement in the center of the bike that is more like my real bike that I ride. If you have a large water bottle then it may get in your way a little bit when adjusting the resistance, but it will hold your water fine.
There is a Digital Monitor that will read out the time, distance, speed, calories, and an odometer.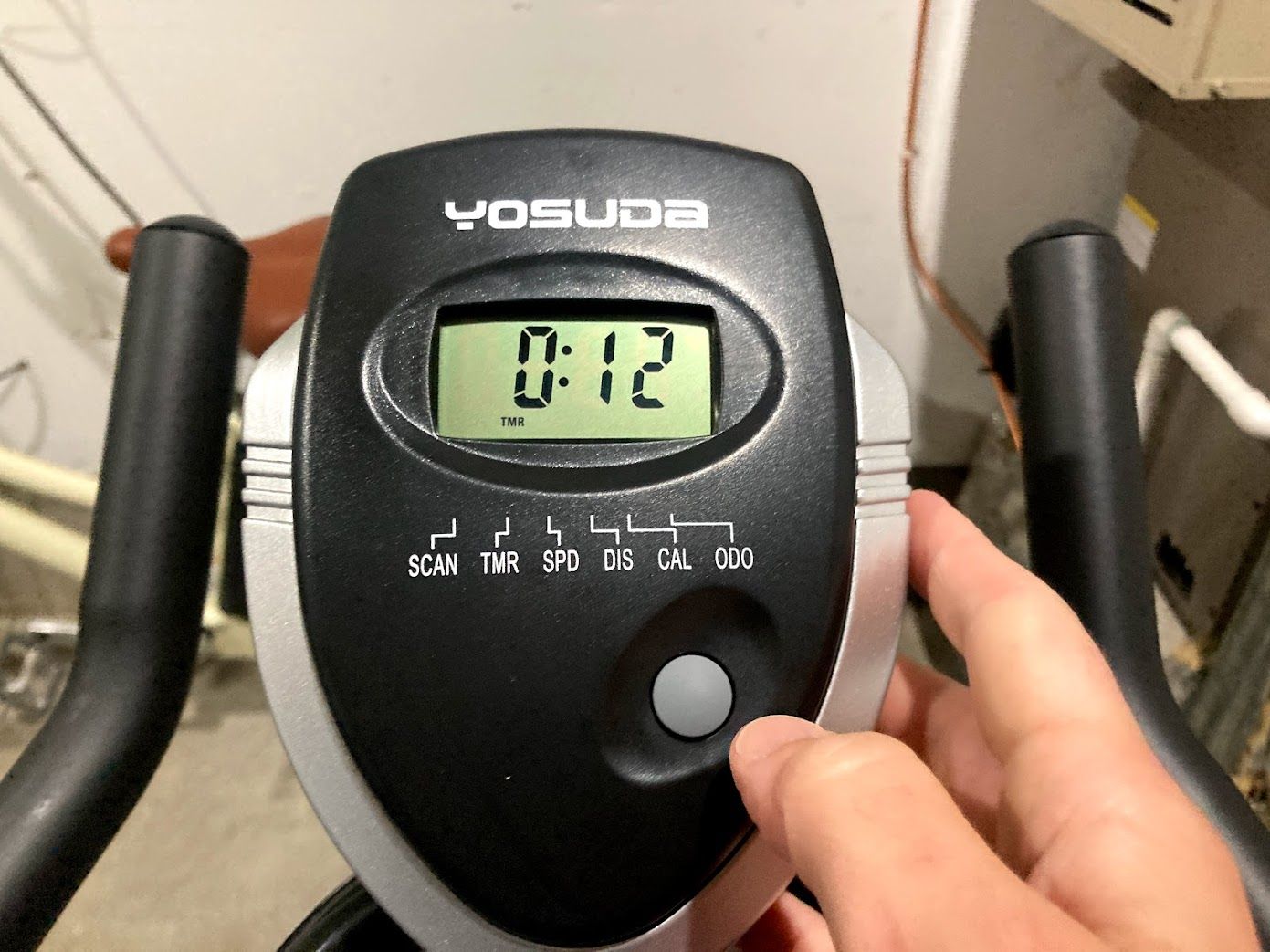 However, the real thing that you will want is a small cadence sensor (such as the moofit) to attach to the crank arm and then have the RPM read back with Peloton or my free app My Cadence!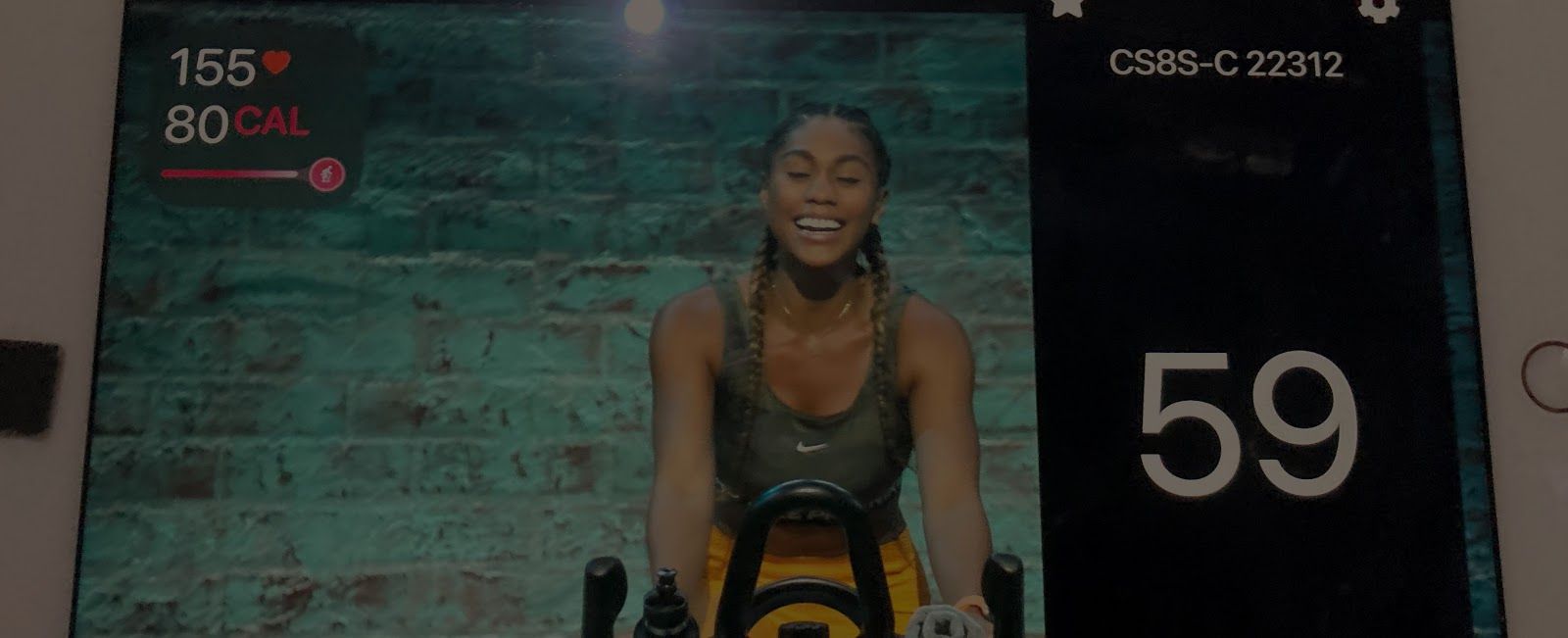 As you can see an additional perk over the Sunny bike is that it has a tablet holder built right in. I have a smaller and older iPad that I have been using exclusively for spin classes on my Sunny and it fits simply fine and is overall sturdy. The holder is optional though and does get a bit in the way of the handlebar, however you can remove it and get a different holder if you wanted to, but it is there and included!
Lastly the bike seat is a nice large seat and I like it! Seats are always preference, but you can always adjust this and put a different seat on.
Overview
Now that I had the bike together it was time to give it a spin...literally :). My first impression of this bike is "alright". I am so used to the 49 lbs. fly wheel of the sunny bike that this one feels exceptionally light. The felt pad is physical resistance, which means you can make it extremely tough to pedal the bike. The fine grain control over how much resistance doesn't really seem to exist on this bike. It feels like it is either free spinning, in the middle, or extremely hard to pedal. The leather pad on the Sunny seems to have many more turns and more levels of resistance overall.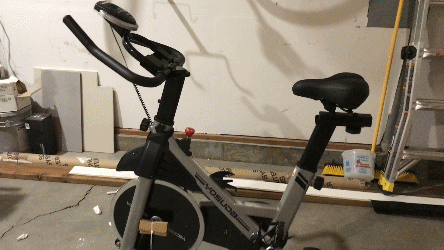 That said, the bike still felt sturdy to get on. Going up and down between sitting and standing position felt fine, but I was not a fan of the handlebars. They are just too close together when you are in standing position and when you are sitting down the tablet stand gets in the way of your hand position. This isn't the worst thing in the world, but I wish the handlebars were different.
So, who is this bike for? This bike is not for someone that is going to do intense spin classes on Peloton or Apple Fitness+. It is for the casual rider that just wants to ride a bike inside. You will get resistance, you will sweat, and you can totally do spin classes, but don't expect that fine grain control. For $230 it is a good deal, and we will totally use it in the house to ride bikes side by side each other in the garage, but I will still be sticky with my Sunny for my main spin classes.
More Yosuda Bikes
Yosuda keeps their offerings simple with the YBOO1 offering a 270 lbs. capacity, 35 lbs. fly wheel and felt pad. The YB007A is a bit larger with a 330 lbs. capacity, a 40 lbs. fly wheel, and overall is a bit larger, yet coming in only at $280. Not to mention that 5% off and free shipping with coupon code MOTZ at yosudabikes.com. Of course, they do offer bikes on Amazon, but their site has some great deals and my exclusive coupon code. Feel free to reach out with questions on Twitter.