tldr; I built a new iOS & Android app called Island Tracker that enables you to track turnip prices, get predictions, and share them with friends. It is available today.
When Animal Crossing New Horizons launched in late March I fell in love immediately. My wife adopted my Nintendo Switch Lite and we both got copies the night of release. Over on the Nintendo Dispatch podcast, we call it the perfect game at the perfect time. It truly has been for us during this time of staying inside away from all of our closest friends. Each day we dig up fossils, shake trees, give gifts to neighbors, visit islands and collect things for our museum.
However, something is different each Sunday morning at our house. We wake up and race to our Switch to see what price we can buy bundles and bundles of turnips. Then throughout the week we are constantly bugging our friends to see what we can sell them for, in hopes that someone has a huge spike and we can make a mad profit. After a week of text message madness, my must solve everything with a mobile app mind went to work and Island Tracker was born.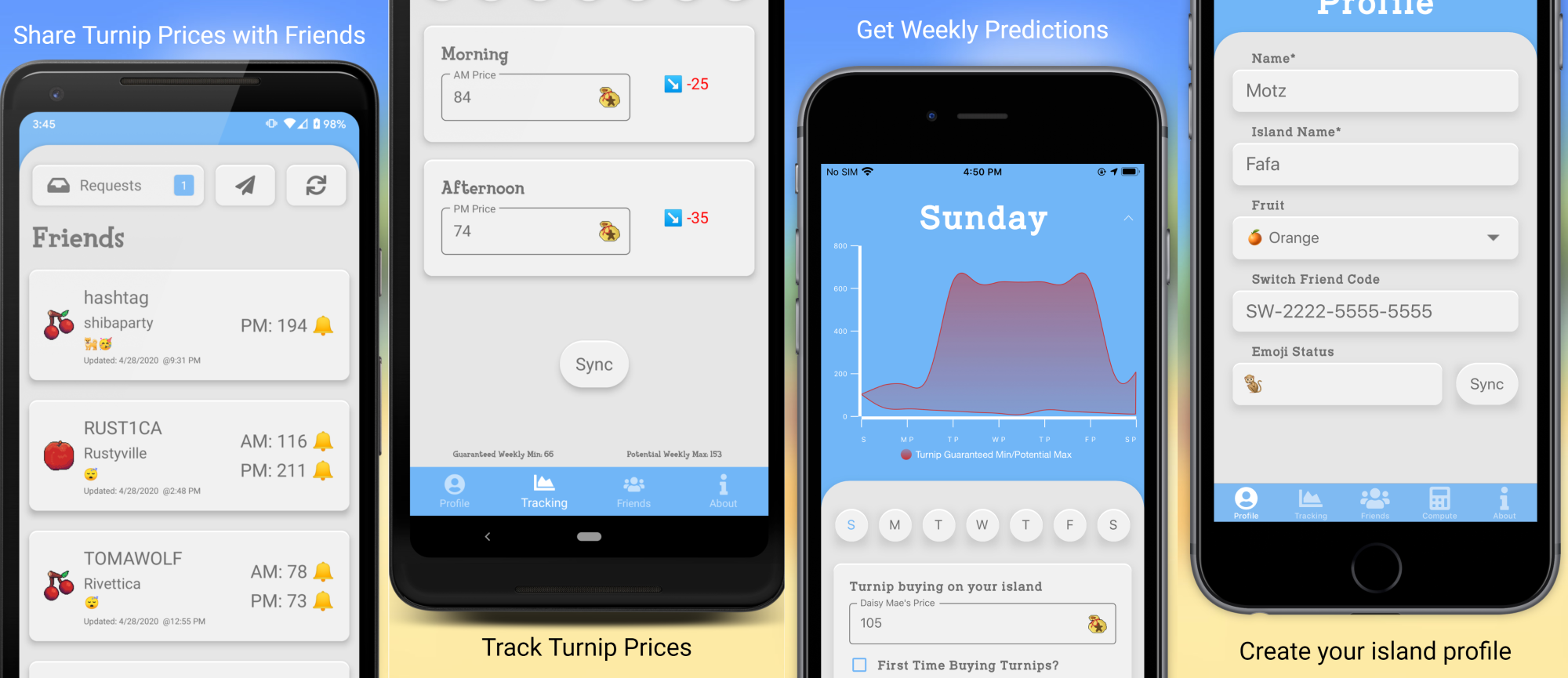 Island Tracker enables you to easily track your turnip purchases on Sunday and then track your prices throughout the week. You can easily get predictions, see if you are up or down, and then share your prices with all of your friends with a click of the button! Through weeks of beta testing with Animal Crossing die hards, I have even added some really cool features such as sharing your Switch Friend Code and nifty calculators to make buying turnips a breeze. After weeks of development, architecting, testing, and getting ready for release, Island Tracker is available right now on Google Play for Android and the Apple App Store for iOS for $2.99. Need some convincing? Here is a full walk through:
The Tech Behind Island Tracker
As you would expect the entire application is completely open source and available on GitHub. The application shares around 98% shared source code between iOS & Android, leveraging Xamarin.Forms for the user interface and C# business logic. There are tons of great libraries that I leveraged to build the app including PancakeView, Sharpnado, Syncfusion, MvvmHelpers, Monkey Cache, App Center, Xamarin.Essentials, and Resizetizer.NT.
For the backend system I leveraged Azure Functions combined with Azure Table Storage. With just a few Tables I was able to achieve some really cool functionality with a full friends system, encryption, and no-signup users.

If you are interested in how it all works checkout this YouTube video I shot on the entire process.
A Huge Thanks
There is an amazing Xamarin community making awesome libraries that really helped me be productive throughout the process. I built a lot of the app live on my Twitch stream and got tons of great feedback and help. Then there is the hard work of Mike Bryant and Steve aka sparkie108 who ported tons of the predictions code to JavaScript and then to  C# to use in the app, which is awesome! Finally, thanks to all of my awesome beta testers that gave me feedback all throughout the last month really making the app spectacular.
What's Next
Well, it is out! I am super proud of this app and hope that people enjoy it and make tons of bells in Animal Crossing! I will continue to improve the app, add new features, and make it the best Animal Crossing app that I can! Cheers <3