As winter approaches and the pandemic rages on and on I know I will be indoors even more than ever. Even though I am excited for cross-country skiing, I know I will miss the day (which is already here) that I am not going to be able to hop on my bike and go for a ride outside. I have always loved spin classes and pre-pandemic I used to go several times a month to in person classes for exercise. I have always thought about going all in on a Peloton, however I couldn't justify the price. However, now seems like a great time to bring spin classes to the home. If you follow me on Twitter, you may have seen that I decided to go a different route and build my own spin bike for under $400. I got all the goods last week and put it together!
Spin Bike Built!! https://t.co/t8w7QGNBMk #ref #SunnyBike pic.twitter.com/sM0L5S1HMT

— James Montemagno (@JamesMontemagno) December 3, 2020
In addition to the Sunny SF-B1002 spin bike (~300) I also picked up a cadence sensor from Moofit (~$20), a seat cover (~$15), and an iPad holder (~$13). All of this comes together and enables me to have a drop-dead simple spin bike with great resistance with the ability to see my cadence (rotations per minute).
What is really cool is that you can use all sorts of different apps to get spin classes at home and Peloton for sure is the top. For $13 a month you can subscribe to Peloton Digital and get live and recorded classes. A full peloton bike has all sorts of sensors, but if you have your own bike and use the app it can connect to a cadence sensor and a heart rate monitor to give you more data.
If you use an Apple Watch + Apple Fitness the Peloton app can synchronize your workouts after your rides directly to your Health app and they will show up in your Fitness app. This is awesome, but now you must decide... synchronize the data from Peloton or manually start and stop a workout each ride. I like numbers and I like accuracy, so I did some experiments to see what stats are better and more accurate. So, I took the same 20 minute ride setting the cadence as close as I could to see what the numbers would shake out to, and the results were interesting.
Peloton App + Cadence Sensor
The benefit of using the Peloton app is that you can connect a cadence sensor, which gives the app additional data as to how your ride went. If you don't own a separate heart rate monitor this may be your default option that you use and is what I did right away. My 20 minute ride went great, but I was shocked when it said I only burned 129 calories!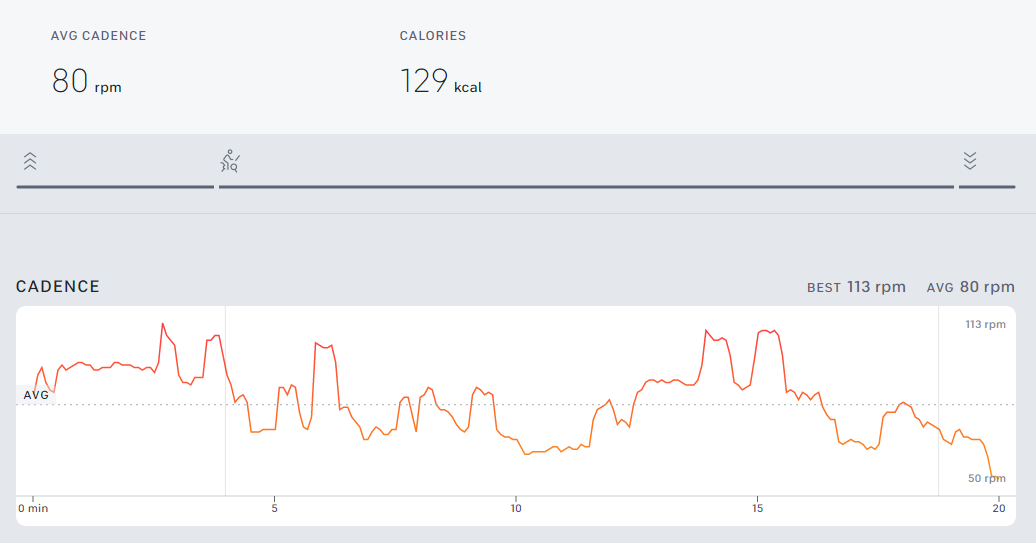 At this point the Peloton app has my age/sex/height/weight, so I figured it would be relatively accurate. However, while I was doing this ride, I was also ran an "indoor cycling" workout on my Apple Watch and it gave vastly different results...
Apple Watch Fitness (Indoor Cycling)
I track about everything I do on my Apple Watch and have really enjoyed the statistics that it provides. One advantage of tracking an indoor cycling activity on the Apple Watch is that it has a plethora data that you provide and sensors including your heart rate. When I did the ride above, I also started an indoor cycling activity and as you can see it was vastly different tracking 270 active calories and 303 total calories.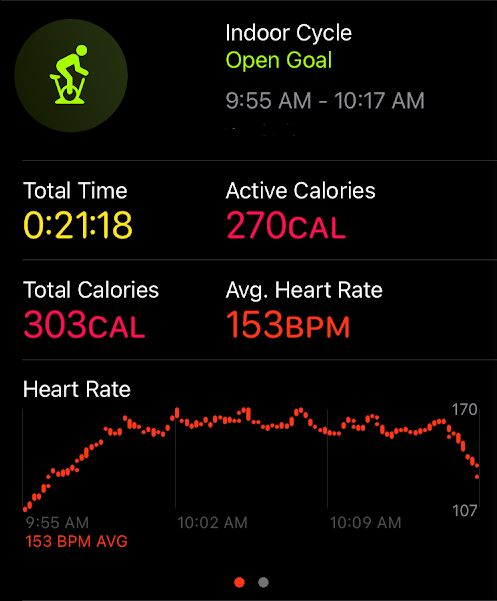 One thing you will note here is that the ride was 1 minute and 18 seconds longer than what the Peloton app says. The Peloton app does not consider any warmup or cool down you do before the ride starts. If it is a 20-minute ride you will have a read out of 20 minutes.
I was surprised that the calorie count was so different, I mean it is more than double! I did feel that the calorie count of 270 from the Apple Watch was more accurate, but seeing they were so different I didn't know what to believe. While, I could never provide the Apple Watch with my cadence, I could provide the Peloton app with my Heart Rate... so I did one more test.
Peloton App + Cadence + Heart Rate Monitor
I don't own a separate heart rate monitor, but I do own an Apple Watch.... which has a heart rate monitor which I just talked about. A problem is that you can't "cast" your heart rate directly to another device "out of the box". It didn't take me long to find an app on the App Store that would allow me to "cast" my watch from my phone to the Peloton app on my iPad. The brilliant HeartCast app is completely free with no ads and simply JUST WORKS! It is amazing! One thing to note is that only one app can have direct access to your heart rate at a time on the Apple Watch. That means you have to decide to cast your heart rate to the Peloton app or do an indoor cycling activity in the fitness app. You can't do both at the same time, which is fine, because I am looking for a single source of stats for my rides.
So, with HeartCast streaming my heart rate and my cadence sensor going to town I set off on my ride. And what would you know my calorie burn completely changed and clocked in at 296 burned!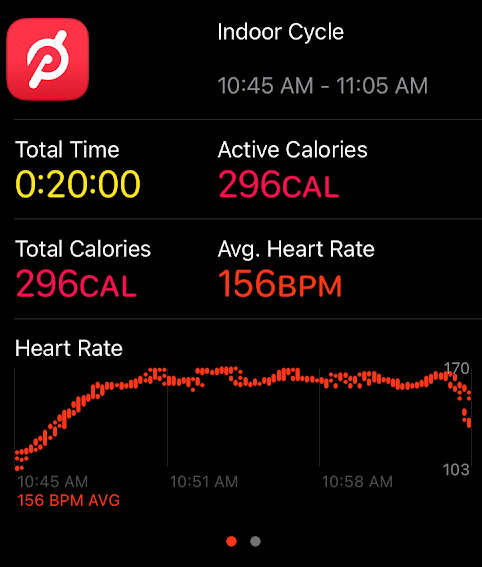 Again, the Peloton ride is only 20 minutes, so it didn't take into consideration my warmup and cool down, but it is very comparable to my Apple Fitness activity that I did. One bonus that you do get with this method is that the Peloton app will show your "heart rate zones" over your ride: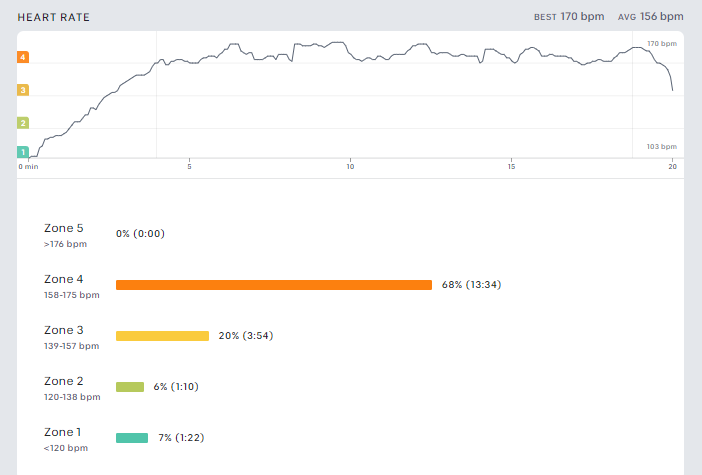 Wrap-up... what to use?!?
So, what does this all mean and what should you use to track your ride? The conclusion that you should not use the Health app sync from Peloton unless you have a heart rate monitor. The stats are very generic and not accurate to the number of calories that you are truly burning.
If you have an Apple Watch I feel as though it is just easier to track your rides directly on the fitness app by starting an indoor cycling activity. The stats are similar, and it has the advantage of tracking your warmup and cool down activity.
While I do find it easy to cast your heart rate to your iPad with HeartCast it is another step between you and your ride. That being said... if you are really really into your stats and want the data to be the same between your Peloton app and your Apple Fitness app then you should ensure you use a heart rate monitor (or HeartCast) to use with the app. The extra bonus is that you get those zones for your heart rate.
I hope that you found this pretty interesting and I would be curious what your experience is and how you track your rides. Hit me up on Twitter @JamesMontemagno.
Hero photo by Humphrey Muleba via Unsplash
Links to third party sites may contain affiliate links that allow you to find the items mentioned on this site. While this site may earn minimal sums when the reader uses the links, the reader is in NO WAY obligated to use these links. Thank you for your support!