It was August 20th, 2013 when I broke out of my comfort zone of sitting behind my desk crushing mobile app code and decided to attend my very first official Xamarin meetup. I rode my bike over to Bellevue, a place that I rarely explored, and pulled up to Pearl. It took me a few minutes to find parking for my bike because Bellevue isn't the most bike friendly city that we have here in the Pacific Northwest, but I walked around until I found a nice spot. I didn't know what to expect or who I would run into. I walked up and remember meeting Anuj for the very first time who was pretty active in the Xamarin community and a complete sweetheart.
We chatted for a bit about my background and I chatted about what I was working on at the time at Ceton, which had gotten some good press. Before I knew it some time had passed and Anuj needed to mingle with the other devs at the event, but asked me if I had ever met this fellow named Frank? I responded that I didn't believe so and that I had only just really moved here not so long ago. Anuj told me that he is one of the kindest souls the city has to offer and that he was an absolute genius. Anuj was correct on all accounts that is for sure.
We walked up and Anuj kindly introduced me to what would soon flourish into a great relationship. Little did I know I would be meeting not just one of my best friends that this city has to offer, but also a collegue, meetup co-organizer, fellow hiker, and podcast co-host.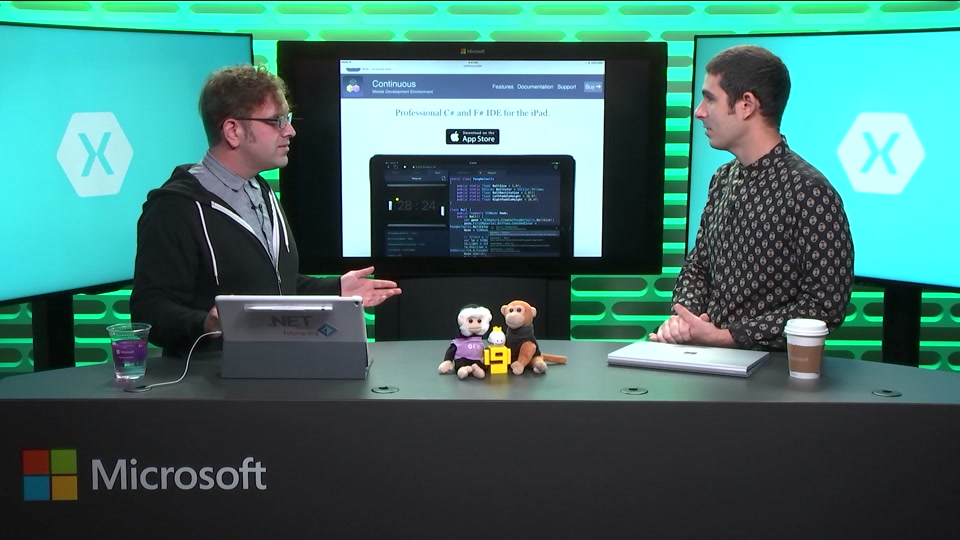 We immediately hit it off as most friends do by talking about how to properly store settings and preferences across multiple platforms. I talked about my Settings plugin and he chatted about SQLite.... wait SQLite-net?!?!!? Wait... Krueger? Is this the Krueger of Krueger Systems, Inc.???!?! The company of who's copyright has stared me in the face for over a year and has saved me so much time creating the ultimate SQLite ORM? Yes it was!!! I didn't let my fanboyism come off at all, but nearly played cool, like oh I really enjoy your library. Tehehe :) I don't think Frank and I left the bar or chatted to anyone else that night and like any awkward first date I asked him for his Twitter handle.
A while later, much code later, many meetups held, and many cups of coffee drank, I finally decided to ask Frank if he wanted to start a podcast... he said YES! Now only to come up with a name... a name that would take us over a year to come up with. Hours of conversation and ideas in a spreadsheet we finally found it, Merge Conflict. A podcast where as Frank said on the first episode is a podcast where we talk about topics... development topics of all sorts. Sometimes Frank and I agree and sometimes we do not. That is the beauty of it to be honest. We get online each week, now for 100 weeks, and chat about whatever development topic is on our mind and ramble on for about 45 minutes.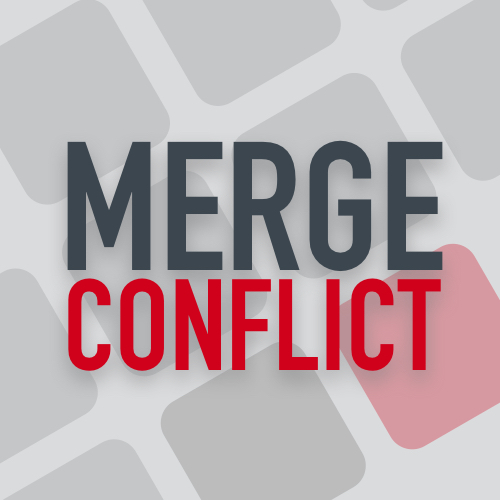 Thanks to our amazing listeners we have thrived and grown. We even launched a successful Patreon page where have the honor of shipping out awesome goodies to our listeners. This year we were hand picked to record live at Microsoft Build 2018 to represent the mobile topic in development podcasts. It has been an awesome journey and it is just the start.
This week, we launched our official 100th Episode of Merge Conflict and it is packed full of awesome 'inside soccer' about the podcast, listener questions, and you guessed it, development rambling.
We hope that you enjoy this episode and hopefully the 99 other episodes. In addition to launching number 100 we are also running our very first CONTEST!!! where you can win awesome Merge Conflict and soundbite.fm swag!
I want to thank all of our amazing listeners and also thank Frank for putting up with me for so many years. <3